Product Information
WE ARE SORRY, THE PRODUCT IS CURRENTLY OUT OF STOCK.
CONTACT US FOR UPDATES.
Ghassoul Clay comes from the Atlas Mountains in Morocco. It is well known for its numerous properties; ghassoul clay mask rejuvenate, clean and nourish face skin.
Ghassoul is extremely rich in Silica, Magnesium, and Calcium,  minerals which help tone the skin and improve its elasticity. Clay is highly absorbing what makes her excellente in a superior detoxification. Toxins, excess oils and impurities are all drawn out from the skin.
Ghassoul clay is traditionally used in hammam treatment.
Ghassoul is suitable to all types of skin, including sensitive.
Absolutely no chemical ingredients or preservatives, artificial colour or fragrance. Not tested on Animals.
DIRECTIONS
Mix the clay in a small bowl and put warm to hot water over it. Leave to absorb the water for a 10 minutes, until it creates a thin paste. Apply to a dry face, avoiding the area around the eyes, and rinse off with warm water after 7-10 minutes. Finish with a splash of cool water and a thin layer of argan oil. You can substitute water with floral water or cold green tea. Use 1-2 times per week.
For external use only.
Use our photo board as direction how to prepare mineral clay masks: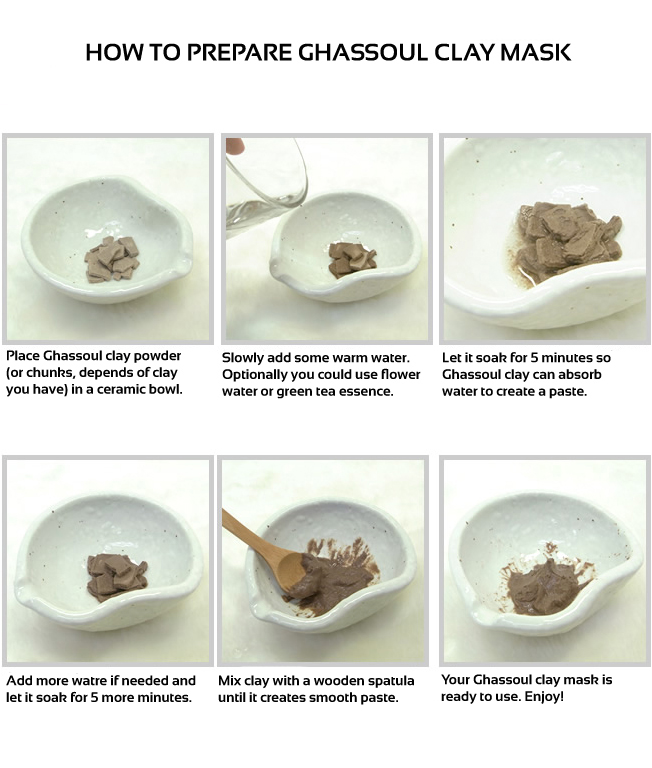 STORAGE
Store clay in cool dry place. You can store excess of paste in a fridge for up to 7 days, in non-metal airless container.
INGREDIENTS
100% white Ghassoul Clay
PACKAGING
Powder, 70 g.
PRODUCER
Kelaa M'Gguna. Made in Morocco.