Kohl eyeliner
Is the secret of enigmatic eyes of the arabian women.
Product Information
WE ARE SORRY, THE PRODUCT IS CURRENTLY OUT OF STOCK.
CONTACT US FOR UPDATES.
The ancient eye make up, used even by Egyptian queens to darken the rims of the eyelids.
Eyes, considered to be teh most important, were always the most emphasized part of the body. Eyes appear bigger and are more beautiful. Amazing effect of whiter whites of the eyes, can be achieved with kohl. Pupils appeared to be more black and larger.
Black Eyeliner RANI KOHL is one of the finest quality of kohls in the world.  Is purely natural and produced by the famous cosmetic company in Saudi Arabia. Comes in a handy tube with attached applicator stick.
Kohl is used to give the sexy smokey eye look.
Kohl is used by the women of the Arabian Peninsula and Asia. Some  men and children are using kohl as well, for a medical puropse.
Kohl is said to have farmacological value:
– protection against eye ailments
– sooth red and irritated eyes
– protect eyes from harmful UV rays, sand and dust
DIRECTIONS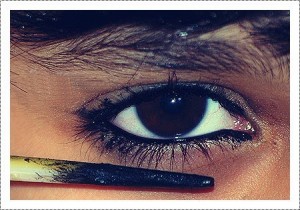 Before use, first rotate the plastic stick anti-clockwise and pull it from the tube. Insert it back and rotate it inside the tube. Pull the plastic stick from the tube – it is ready to use.
Hold stick parallel to eye.  Start at the inner corner of the eye and closeyour eye. Run the stick between the eyelids, almoust  touching the eye. It need some practise but it doesn't hurt, really.
It can be use as eyeliner or eyeshadow.
IMPORTANT: If you wear contact lenses apply Kohl BEFORE inserting lenses (otherwise it might damage your contact lenses).
Check the kohl application tutorial.

INGREDIENTS
Finely powdered minerals, plant extracts, resins, or soot.
PACKAGING
Paste, 0,5 g.
ORIGIN
Made in Saudi Arabia.
IMPORTANT
Not all kohl's are healthy, and may contain lead. Make sure you buy a kohl from a well known company. Avoid the one made in Pakistan and India.