Green Clay Face Mask with Rose Oil
Product Information
WE ARE SORRY, THE PRODUCT IS CURRENTLY OUT OF STOCK.
CONTACT US FOR UPDATES.
Green Clay mask is reducing sebum while also tightening pores, hence is particularly recommended for oily skin.  Many SPAs around the world offer facials using Green Clay powder. Apply clay mask weekly to reduce blemishes. You will notice visible improvement of your skin's condition with regular use.
Benefits of Green Clay:
Cleansing pores and providing a deep clean – mineral from the clay absorb oil and dirt naturally
Exfoliate – regular exfoliation removes dead skin cells from the surface, giving way for new, healthier skin, and prevents blemishes
Improve circulation – the  more nutrients and oxygen is delievered to the skin the more natural, healthy glow the skin has. It is also important for skin repair and for the prevention of premature lines.
What is so special about a green clay mask? The green clay contains plant matter, providing an even richer dose of nourishing minerals. Absolutely no chemical ingredients or preservatives, artificial colour or fragrance. Not tested on Animals.
DIRECTIONS
Mix the clay in a small bowl and put warm to hot water over it. Leave to absorb the water for a 10 minutes, until it creates a thin paste. Apply to a dry face, avoiding the area around the eyes, and rinse off with warm water after 7-10 minutes. Finish with a splash of cool water and a thin layer of argan oil. You can substitute water with floral water or cold green tea.
Use once per week. Do not use for sensitive or dry skin types. For external use only.
Check our photo board, how to prepare mineral clay masks: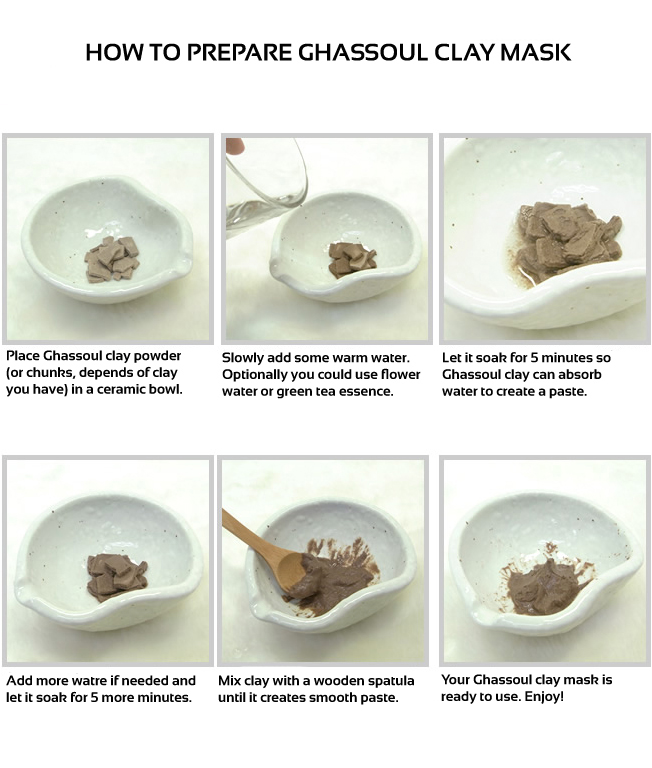 STORAGE
Store clay in cool dry place. Paste leftovers can be store in non-metal airless container, in a fridge up to 7 days.
INGREDIENTS
100% Green Clay powder, rose extract.
PACKAGING
Powder, 70g (packaging may vary)
ORIGIN
Made in Morocco.